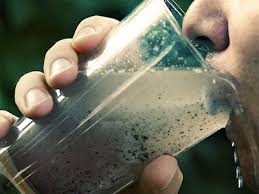 I looked into the cup of water Jeremy had just poured me. There were swirls of some mystery substance mirking through the water.
"Uh..." I stammered.
"Hmm..."Jeremy nodded. "I guess the milk didn't wash out."
Milk?
We don't drink milk. Well, except for almond milk, and that's not the kind of stuff you just "down," ya know?
I peered at Jeremy through slitted eyelids, making him all blurry.
"Milk," I spat. "Did you drink Lily's whole milk??"
Jeremy just raised an eyebrow at me, and smirked.
"How quickly you forget..." he remarked.
"Forgot what...?"
I then remembered that I had pulled out a quart size container of eggnog which we shared not an hour before. Oh...
Undeterred, I persisted.
"That's not milk," I spat again, this time making sure I wiped it off my chin.

"It has milk in it," Jeremy protested, carefully sorting through the vitamins we take every night, and gently placing them into my outstretched palm. We both tossed back our vitamins.
"It has eggs in it, too," I spat yet again (gosh, I think I have a problem), hitting him in the face with a projectile vitamin D-3. "Does that make it a quiche?"
Jeremy just smiled and swallowed his mouthful of vitamins.
"Your a funny lady, Dara."