When I turned 18, I "graduated" from Young Women and was welcomed into Relief Society with open arms.
I had mixed feelings.
In a way, I was excited to be joining the big people in an adult meeting. And since I never understood my peers, I was glad to be among people who's reactions to life weren't a direct result of a hormonal flare.
But, it happened, as it always does, that I became a visiting teacher. I was baffled. Now, I had a great example of what a visiting teacher should be from Mom. I can't remember how many times I would follow my nose into the kitchen and ask the same old question, "Is that for us?" And usually if the meal was particularly tasty (all her meals were tasty...what I mean by that is that it usually was accompanied by a dessert...), the answer would be, "No."
So, I was given my assignment, and I didn't do anything about it. I didn't know who was supposed to do what, and since I was new, I figured that my companion would take charge. Nope. For the few months I still attended my home ward, I didn't do my visiting teaching (it was like two months, but still...).
Over the years, I have had the opportunity to hone my skills. I absolutely love Visiting Teaching. I think it is one of the most wonderful programs (if you can call it a program) in the Church.
It wasn't easy, of course. Mostly because other people don't care. It's amazing what CAN'T be done if you are depending on someone who is undependable or if the people you visit don't answer the phone (or door).
BUT, (BUT!) nobody can with clear conscience blame another person for not doing it. My first companion after I moved into my parents' ward thought the fact that she wouldn't do it was funny. So, I had to do everything by myself. It was good for me! It taught me self-reliance.
In that ward, the sisters who visited me changed frequently (as the coordinator attempted to pair up youngins together) and eventually I ended up having only half a visiting teaching couple come.
I liked it that way, actually. It made it easier to talk to the sister. Over time, we shared personal and intimate feelings with each other, we shared our testimonies with each other, and we cried together. After months, our friendship grew and we became the best of friends (and we still are). Those monthly visits turned into something I looked forward to, and eventually blossomed into us spending time together besides during visiting teaching. I trusted and loved her, and I wouldn't trade any of that time spent together for anything. THAT is what should be happening. Heavenly Father has told us to take care of each other, to love one another, to share joy and sorrow. That is what it is all about!
Now...
We moved, and I once more received a visiting teaching assignment. It was hard. I had to learn all over again what it took to be a stranger and a friend. And I was pregnant, which made things harder (you can't tell me it isn't true!). But, I again exerted effort and attempted to do my duty. And I grew to love those whom I visited, and was truly saddened when routes changed (and they frequently did).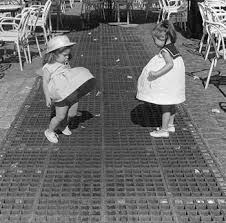 After having Eva, doing visiting teaching became more challenging as I tried to wrangle a wiggly toddler and a baby.
Then I got pregnant again, and suddenly the tides had turned and I was the unreliable companion, a fact that has caused me no small amount of anxiety.
Now I have three, and doing my visiting teaching has become me standing, embarrassed, on the last day of the month on the doorsteps of women I hardly know, handing them cookies and an apology for not doing what I should be doing: loving them, serving them, and being a true friend. And I feel it a little tacky asking, "Do you need anything?" because I know if I were in their shoes, I would never call someone I didn't know for help.
I found myself trying to justify my not doing it, and I came up empty handed. I learned again that no matter the circumstances, if it doesn't get done and done right and with my heart in the right place, I am failing and I am the one to blame. It's a lot to chew on.
Why do we deprive ourselves of the wonderful gift of our sisters that God has given us? What's more important than making sure no one within our reach is hungry, naked, or lowly in spirit? We can richly bless each other's lives!
I have a long way to go. But, Heavenly Father is patient, and He will give me what I do not have to accomplish what He has asked me to do.