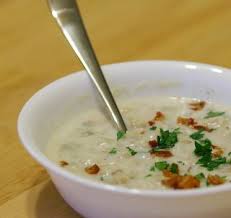 I love New England Clam Chowder. I can only imagine some day that I will enjoy it much more when I am seated in a seaside cafe in Maine. Next to a light house. On a cold autumn day. With an overcast sky. And I would be wearing a fair isle sweater...Ah...wouldn't that be nice? I think I would have to be by myself in order to get the right ambiance. Melancholy goes well with New England Clam Chowder.
Well, I have been searching up and down for a good recipe. I don't believe in canned clam chowder (never mind the fact that I have it in my food storage). I actually don't like many canned soups (except that tortilla soup, Mom, that you get. THAT is one tasty canned soup).
Today I found one, and it was actually from back east! Yay! REAL New England Clam Chowder...ahhh...
I slaved over the stove all afternoon (well, for about an hour) and produced an extremely rich, aromatic, and delicious soup. I was surprised. I was expecting some sort of sub par phowder (like the low fat version I found that used water, a little bit of flour, and required a LOT of salt).
And of course, if you are going to eat New England Clam Chowder, you need to have fresh bread. It's not an option. And if you have been going through life without fresh, hot bread with your soup, you are sorely abusing yourself.
My favorite bread in the whole world is herb bread (just throw rosemary, basil, and dill into your regular white bread recipe). I haven't had much success making my bread rise nicely and not fall on top, but today, miracle of miracles, my bread machine pulled through for me and gave me beautiful bread.
My planned dinner was perfect.
And it turned out perfect.
It was only slightly marred by Joshua announcing that he didn't like the soup, and that the bread
was "common."
I don't know if he knows what that means, but he kept eating the bread so maybe "common" means something different to my four-year-old.
(Eva ate it like she had never eaten anything in her whole life. It must have been really good...And I can always tell when Jeremy
loves something when there is hardly anything left over. )
(And no, Eva is not a Scottish Muslim. This is her version of wearing her bathing suit.)
Anywho, for your pleasure, here is the
recipe
. I hope you enjoy!
P.S. I added a can of cream of mushroom soup to mine. Yummm...