I am sure I am not the only one out there with a slow-eating
pre
-
schooler
. Joshua takes
hours
to eat a peanut butter and jelly sandwich, by which time we are ready for dinner and he doesn't want to eat any. Or, in some instances, Eva will find and the smear it on the couch, floor, and herself, all the while making
quizzical
noises.
Well, today, I decided to be fun and get some pizzas for our dinner, and since I was at that side of
Wal
-Mart, I wandered down to the bakery looking for something tasty. There is nothing, I repeat,
NOTHING
better than an
old-fashioned sour cream glazed donut
. You know what I am talking about...They are
cakey
but crisp, and they melt in your mouth...oh yeah...
Well, I decided that I
needed
four of these, and put them in the cart. Joshua was REALLY excited. Even though he wanted a cherry flavored donut with pink sprinkles, I knew better, and
he decided that a donut mom picks is better than no donut at all.
As soon as I had put the yummy treats in a bag, Joshua wanted to hold them, and when I wouldn't let him, he kept going
on
and
on
and
on
about how he wanted one and could he have one PLEASE?
All though the parking lot, and into the car, down the street, into another store, down each aisle, through the
register
, back into the car, on the road, and finally into our parking lot, into the house he begged and begged for a donut.
After putting Eva in bed, I looked at him seriously and said, firmly,
"You may have a donut after you eat a peanut butter sandwich."

The range of emotions was extraordinary.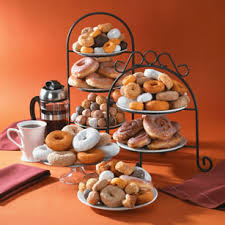 Joy, terror, anxiety, frustration and happiness ending with a bright "Okay!"
I made the sandwich, cut it in four pieces, sat down at the computer, and in three minutes flat, Joshua came running up, mouth wide open to show me he had finished his sandwich.
Oh, those magical donuts! I may have to buy more...