I was sitting at the computer the other day, and I thought to myself, "Gee, what did I do with my time before Facebook and Blogger?" I couldn't remember.
As I thought about it, I remembered (Yes, sad, I know) that I love to read. So, I went to the library to get a whole wad of books. All sorts, too. I got history, and fantasy, and more fantasy...(Yes, Mom, I know...I still have 10 of your books that are quietly collecting dust...it's just that
Daniel Deronda
looks too intimidating!).
I also put a whole wad of books on hold, and they have started to come in! I have sucessfully read the first 5 pages of
Watership Down
, and I hope I can stick with it (I mean, it's a novel about bunnies...I don't understand that kind of art form, I guess). Every time I open the book I hear in my head "Bright Eyes," which is odd since I haven't even SEEN the movie.
Since Jenny and Dad want to sing the song, I have been trying to find the sheet music (I even e-mailed the composer but he hasn't written back. But the composer for "The Last Unicorn" did! HEHEHEH!). I found out some interesting things though.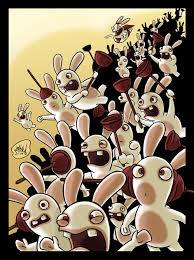 The article said that Batt's ("Hey that's a fun name for a bunny!" I thought.) father was on opium. When I first read it, I thought, "Oh my gosh! Doped-up bunnies are SO not appropriate for children!" But when I read it again, I realized that they weren't talking about
Watership Down
. Webb is the
composer
(Whew!). The song was written originally for the composer's father who was dying of cancer and was prescribed opium--hence bright eyes.
I will probably watch the movie after I am done with the book. Hopefully I won't be disappointed! With pictures like this, though, it might be too intense...