So...What happened to Emily? Was she sucked up by the
blog monster
?
I think she must have. I can just see it: THERE SHE WAS! Composing a masterpiece of a blog (*typity typity*), and suddenly (GASP!), just as she was about to post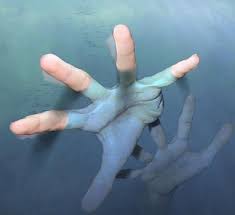 the monster gobbled her up (*chew chew*) and she was unable to click on the orange "PUBLISH POST" button! The final words she uttered between the blog monsters sharp
teeth were
"*cough cough*
Autosave........."
It is so tragic...We shall mourn her loss to the blogging world...
I miss my Emily. I wish she would come back...
EMILY CAN YOU HEAR ME!??
*sniff*
Come back, EMILY!